Pork and Poblano Tacos with Kiwi Salsa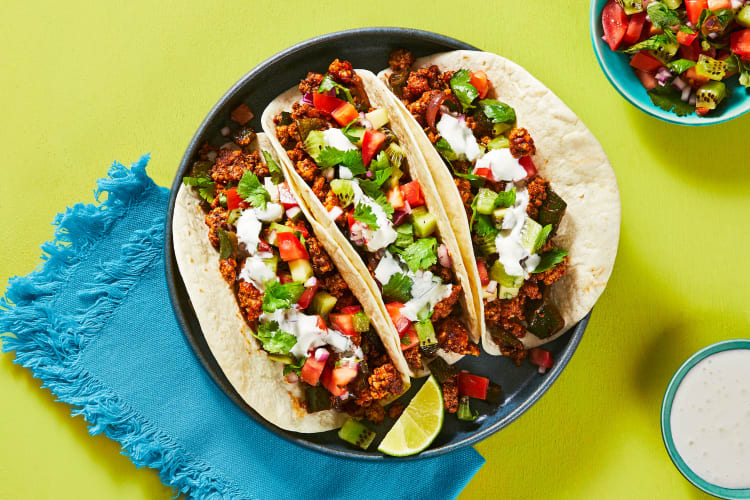 Description
This dish features pork cooked with poblano peppers and onions, all mixed with a slightly spicy blend of southwest seasoning. Topped with fresh kiwi salsa and a cilantro-lime creme, these tacos are both refreshing and bring a smoky punch.
Ingredients (2 servings)
1 large red onion
1-2 poblano peppers
1 roma tomato
1 kiwi
1 lime
1/4 oz cilantro
2 tbsp southwest spice blend
4 tbsp sour cream
2 tbsp chicken stock concentrate
1.5 oz tomato paste
~1 lbs ground pork
6 flour tortillas
Directions
Wash and dry produce; thinly slice onion (and mince a few slices for the salsa). Core and finely chop poblano. Peel and finely dice kiwi. Roughly chop cilantro. Cut lime into wedges.
In small bowl, combine sour cream with a few squeezes of lime and small amount of cilantro. Stir in water in partial teaspoons until drizzle consistency; season with salt and pepper. In medium bowl, combine tomato, kiwi, minced onion, half of cilantro, and a squeeze of lime. Season with salt and pepper.
Heat a drizzle of oil in a large pan on med-high. Add poblano, onion, and half of the spices. Cook, stirring occasionally, until soft and lightly charred, ~4-5 minutes.
Add another drizzle of oil, pork, and remaining spices. Cook while breaking into pieces until pork is browned and cooked through, ~4-5 minutes. Reduce heat to med-low, and pour of extra grease if amount is excesive.
Stir in stock concentrate, 1/4 cup water, and tomato paste; cook, stirring occasionally, until sauce has thickened and coated meat and vegetables. Season with salt and pepper if needed.
Wrap tortillas in damp paper towel and microwave until warm, ~30 seconds. Place on hot skillet to brown and slightly crisp if desired. Divide taco filling, salsa, and crema between tortillas. Sprinkle with cilantro and serve with lime wedges.
Back to other great dishes