Mango Tango Chicken Tacos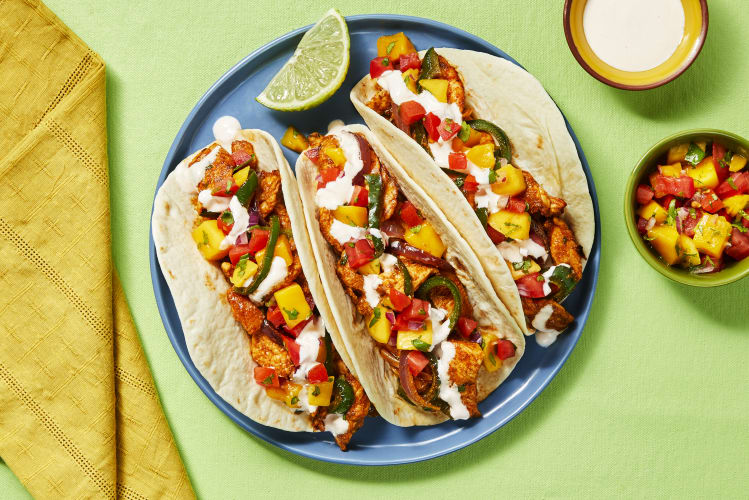 Description
This dish features savory blackened chicken with a southwest blend of vegetables, topped with a sweet mango salsa.
Ingredients (2 servings)
1 red onion
1 poblano pepper
1 roma tomato
1 lime
4 ounces mango
1/4 oz cilantro
1 tbsp southwest spice blend
1 tbsp blackening seasoning
2 tbsp sour cream
1 tsp hotsauce
~1 lbs chicken breast strips
6 flour tortillas
Directions
Wash and dry produce; thinly slice onion, mincing a couple tbsp for the salsa. Dice tomato. Dice mango (if mango is from a cup, put aside and save juice). Roughly chop cilantro. Zest and quarter lime. Thinly slice poblano.
In medium bowl, combine minced onion, tomato, mango, 1 tbsp mango juice, half the cilantro, a few squeezes of lime juice, and lime zest. Season with salt and pepper to taste. Set aside for end.
Heat a large drizzle of oil on med-high heat. Add onion, poblano, large pinch of salt, and cook, stirring occasionally, until veggies and lightly charred, ~5-7 minutes. Season with salt and pepper; transfer to plate.
Pat chicken dry with paper towel; heat another drizzle of oil in veggie pan and cook chicken over med-high heat. Add southwest spices and blackening seasoning and cook, stirring occasionally, until chicken is fully cooked, ~4-6 minutes. Stir veggies back in, along with cilantro and the remaining mango juice. Cook while stirring another 1 minute, and remove from heat.
While chicken is cooking, combine sour cream with hot sauce to taste in a small bowl. Add 1 tsp of water at a time until cream reaches a drizzle consistency. Season with salt to taste.
Wrap tortillas in a damp paper towel and microwave until warm, ~30 seconds. Divide taco filling, salsa, and crema between tortillas. Serve with lime wedges on the side.
Back to other great dishes