Italian Chicken over Lemony Spaghetti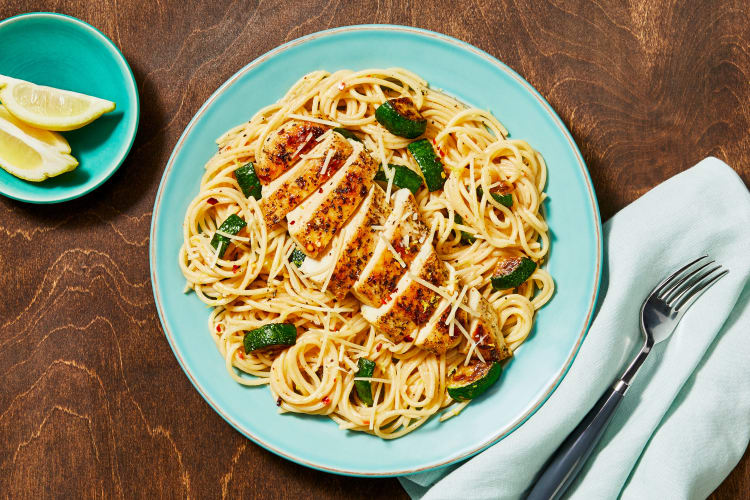 Description
A wonderfuly creamy and zesty dish featuring italian-spiced chicken, browned zucchini, and spaghetti coated in a cheesy lemon-insufed sauce.
Ingredients (2 servings)
1 zucchini
1 clove garlic (but go ahead and use more)
1 lemon
~1 lbs chicken
1 tbsp italian seasoning
1 tsp chili flakes
1 tbsp chicken stock concentrate
2 tbsp sour cream
1/4 cup parmesean cheese, finely grated
Directions
While bringing a large pot of water to a boil, wash and dry all produce. Trim zucchini lengthwise, and cut crosswise into 1/2" pieces. Peel and mince garlic. Zest and quarter lemon.
Once water is boiling, add spaghetti to pot (make sure to salt your pasta water!). Cook until al denta, 9-11 minutes. Reserve 1 cup pasta water for sauce, and drain the rest. Keep empty pot handy for further steps.
While pasta cooks, heat a drizzle of oil in a skillet, preferably nonstick, on med-high heat. Add zucchini and cook, stirring occasionally, until browned and soft, ~4-6 minutes. Season with salt and pepper to taste. Turn off heat and transfer to plate; wipe out pan.
While zucchini cooks, pat chicken dry with paper towel and season all over with italian seasoning. When zucchini is done, heat another large drizzle of oil over med-high heat and add chicken. Cook 3-5 minutes per side until cooked through. Turn off heat and transfer to a cutting board to rest; once cool, slice crosswise into strips.
Heat a drizzle of oil in pot used for spaghetti, again over med-high heat. Add garlic and half of lemon zest, and a pinch of chili flakes. Cook while stirring until fragrant, ~30 seconds. Stir in 1/2 cup of the pasta water from earlier, along with the stock concentrate and juice from two lemon quarters. Simmer 1-2 minutes until thickened, and turn off heat.
While warm, add the drained spaghetti, zucchini, sour cream, and 1 tbsp butter to sauce in pot; toss noddles to coat. Add half the parmesean cheese, and further splashes of pasta water if needed to help thicken sauce to a creamy consistency. Divide pasta, and top with chicken, chili flakes, lemon zest, and remaining parmesean cheese. Serve with lemon wedges on the side.
Back to other great dishes